Arachne's Web Membership and Ranks
In general, membership in Caid's Order of Arachne's Web is open to all, regardless of age or skill level. There are no dues. A guild badge with embellishments will be given to members who participate in the guild through service (officers, teachers, researchers, etc.) and/or the completion of various achievements as specified.
The guild's overall purpose is to foster the art of lacemaking. However, to accommodate those who enjoy having an incentive to learn new lace techniques and increase their skills, the guild provides the following ranking structure:
There are four ranks of membership within the Guild: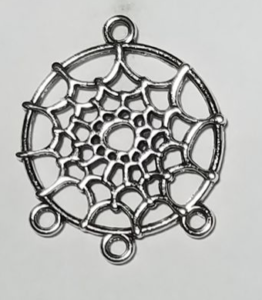 Member or Lace Apprentice
Requirements: The only requirement is an interest in lace and lace making and participation in the guild.
Badge:The badge is a silver spider's web on a black background.
Lacemaker
Requirements:The candidate will provide two lacework pieces that display an adequate understanding of the techniques.
Badge: A silver spider is added to the web.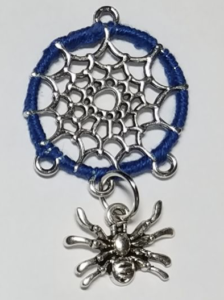 Lacemistress / Lacemaster
Requirements:

Know how to do at least four forms of lacework, or four different styles of one form of lacework well and can produce excellent pieces in two of them.
Know the difference between SCA period and post-period techniques and tools.
More details in charter
Badge: The badge may be given a border of (or be trimmed, or set in) blue.